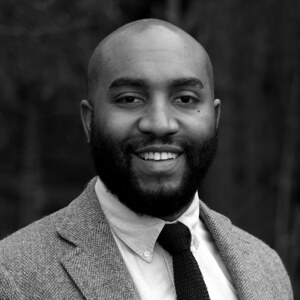 Robert Louis Brandon Edwards
Cultural and Architectural Historian
As a native New Yorker, Robert is a product of Great Migrators who moved to Harlem from Virginia in the early 60s for better opportunities. He holds a Bachelor of Architecture from the State University of New York (SUNY) and received his Master's in Architectural History with a certificate in Historic Preservation from the University of Virginia (UVA).
Through writing, graphic, and oral interpretation, Robert's work delivers different narratives and perspectives at the intersection of race, sex, space, and architecture. Robert has worked in collections management with the National Park Service at Appomattox Court House National Historical Park and with the National Trust for Historic Preservation at Woodlawn and Pope Leighey House. His experience also includes hands-on restoration work at Jefferson's Monticello, Fitzhugh's Chatham Manor, UVA's dormitories; and as an architectural historian on an archeological survey in Oropos, Greece. He has been published in the New York Beacon and his essay "Architecture in Music, Architecture in Film" was recently accepted by the Athens Institute for Education and Research.
He is a member of the European Architectural Historian Network, Vernacular Architecture Forum, National Trust, Society of Architectural Historians, and is on the Board of Architectural Review for the city of Charlottesville. At NBW, Robert is currently working multiple projects including the National Memorial to the Underground Railroad in Pennsylvania with the Voices Underground Group which promotes racial healing through storytelling.