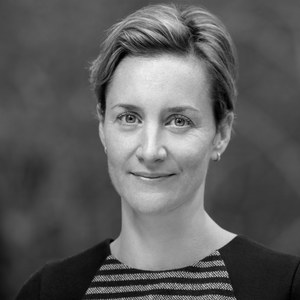 Charlotte Barrows
, PLA, LEED
Senior Associate
Charlotte joined Nelson Byrd Woltz in 2013. She is a Registered Landscape Architect and LEED Accredited Professional with 15 years of professional experience. She holds a Bachelor of Science in Architecture with Honors from the University of Virginia and a Master of Landscape Architecture from the Harvard University Graduate School of Design. She previously worked at Landworks Studio, Inc., where she managed a wide range of projects, including the U.S. Land Port of Entry in Madawaska, Maine; the East Boston Branch of the Boston Public Library; and the Interim Landscape at the New Residential Colleges at Yale University.
At Nelson Byrd Woltz, Charlotte has gained experience in restoring and rehabilitating cultural landscapes such as Forsyth Park in Savannah, Georgia; Jay Heritage Center in Rye, New York; Camp Chewonki in Wiscasset, Maine; the gardens at Mount Cuba Center, Delaware; and Olana State Historic Site in Hudson, New York. Current projects include the Greenhouse Complex at Mount Cuba Center, Master Plan development at St. Charles Borromeo in Lower Merion Township, and implementation of the strategic plans at Olana State Historic Site. Her work at Olana has led to collaborations with Anne Godfrey at the College of Environmental Science and Forestry SUNY on an upcoming book publication. In addition, Charlotte's work at Mount Cuba has led to her co-authoring a chapter in an upcoming book on accessibility at historic sites.
 
Charlotte has guest lectured at the University of Tennessee and served on numerous academic design juries at Harvard University, Northeastern University, Pennsylvania State University, and Boston Architectural College. Charlotte is currently a Fellow at Urban Design Forum.